ChessBase Magazine Extra 178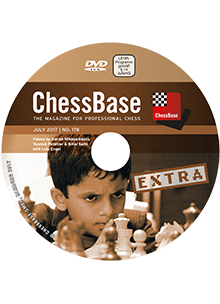 Languages:

German

,

English

Delivery:
Download, Post
Level:
Any
€12.99
€10.92 without VAT (for Customers outside the EU)
$11.79 (without VAT)
27.384 games played between April and June 2017
Adrian Mikhalchishin is actually a supporter of the black pieces whenever the Queen's Gambit Accepted is up for discussion. But in this video he shows a new move for White. Jon Ludvig Hammer, who has the white pieces, belongs to Magnus Carlsen's team, so our author believes that the remarkable idea is a fruit of the analysis work undertaken in preparation for the world championship matches.
Yannick Pelletier is justifiably proud of his game against Richard Rapport, Chess Olympiad Baku 2016. The Hungarian, with White, does emerge from the opening better, but then after a queen sacrifice by Pelletier what arises is a position of a completely different type. In 66 moves the Swiss grandmaster manages to lead the black pieces to victory.
Nihal Sarin, 12, and Luis Engel, 15, casually exchange ideas about a sharp line in the Najdorf System.
System requirements
Minimum: Pentium III 1 GHz, 1 GB RAM, Windows Vista, XP (Service Pack 3), DirectX9 graphic card with 256 MB RAM, DVD-ROM drive, Windows Media Player 9, ChessBase 12/Fritz 13 or included Reader and internet connection for program activation. Recommended: PC Intel Core i7, 2.8 GHz, 4 GB RAM, Windows 8.1 or Windows 10, DirectX10 graphic card (or compatible) with 512 MB RAM or better, 100% DirectX10 compatible sound card, Windows Media Player 11, DVD-ROM drive and internet connection for program activation.