French Defence Powerbook 2018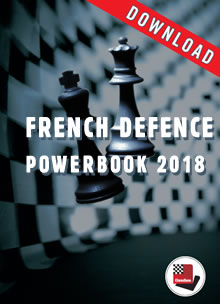 Languages:

German

,

English

Delivery:
Download
Level:
Any
For the French Powerbook we once again used above all high quality material: "only" just 20 000 games from Mega and from correspondence chess, but these have been selected for their quality. Added to these are 582 000 games from the engine room of playchess.com. The statistics in the Winawer, especially in the sharp 7.Qg4 Qc7 variation, are not very tempting from Black's point of view and you can understand why the top players so rarely adopt this setup. Things look quite different in the Steinitz-Variation. If we take, e.g., the most frequently played continuations for both (from move 1 on): 4.e5 Nfd7 5.f4 c5 6.Nf3 Nc6 7.Be3 cxd4 8.Nxd4 Bc5 9.Qd2 0-0 10.0-0-0 a6 11.Qf2 Bxd4 12.Bxd4 Nxd4 13.Qxd4 b5 14.Bd3 Rb8 15.Kb1 b4 16.Ne2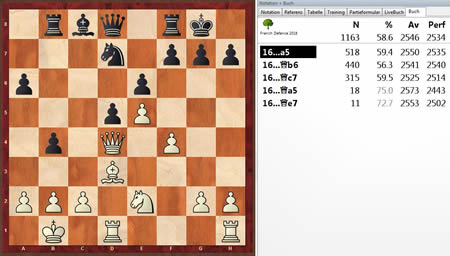 Instead of two games in the Online Database – both from correspondence chess and both drawn – the Powerbook here offers more than 1100 games with statistics which on the whole make good reading for Black. On the long way to this position White has few promising alternatives available to him, whereas Black on the other hand has several good deviations. There is for example 7...a6 8.Qd2 Be7 9.Be2 b5 10.0-0 0-0, where Powerbook can offer statistics based on over 20 000 games, whilst the Online Database has fewer than 1000.
In the Steinitz Mainline too, after 4.e5 Nfd7 5.f4 c5 6.c3 Nc6 7.Be3 cxd4 8.Nxd4 Qb6 9.Qd2 Qxb2 10.Rb1 Qa3 11.Bb5 Nxd4 12.Bxd4 a6 13.Bxd7+ Bxd7 14.Rb3 Qe7 15.Rxb7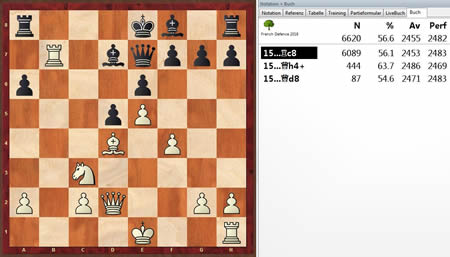 the evaluation has crystallised: the Powerbook prefers 15...Rc8; over 6000 games prove that the position is balanced.
System requirements
System requirements: Pentium PC, 32 MB RAM, Windows 10, 8 or 7 and Fritz 13, 14, 15, 16 or ChessBase 14, 13 or 12 and DVD drive.