London System Powerbook 2018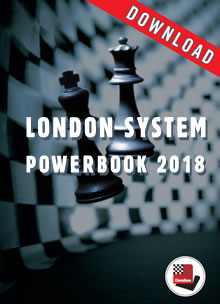 Languages:

German

,

English

Delivery:
Download
Level:
Any
The completely new Powerbook London System 2018 is based on games which start in different ways and belong to different ECO codes, but where in each case White plays d4 and Bf4 and also does without c4. This way of starting the game has long since cast off its image as purely an opening for amateurs; world class players such as So, Kramnik, Grischuk, Vachier-Lagrave, Aronian and Karjakin play the opening with both colours and the London book is based on 44 games by Magnus Carlsen. In order to guarantee a high level of reliability for the statistics, the threshold for accepting games was set at a very high level. Thus the basis for the Powerbook consists of 176 000 engine games as well as 11 000 games from Mega 2018 + Correspondence Database 2018.
One of the basic positions of the London System can be seen in the following diagram: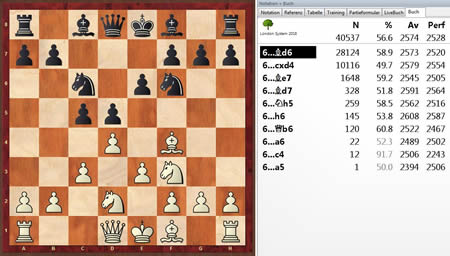 Statistics suggest 6...cxd4, and actually after 7.exd4 the modern 7...Nh5 is a very trendy variation. It is possible to then study the various lines with a factor of 100:1 (London Powerbook to games in Mega or Online Database). Is it all over with the London System then? Certainly not. Just the delaying of Sf3 on its own offers White additional possibilities, as is proved by the statistics of the Powerbook.
System requirements
System requirements: Pentium PC, 32 MB RAM, Windows 10, 8 or 7 and Fritz 13, 14, 15, 16 or ChessBase 14, 13 or 12 and DVD drive.