Power Play 20: Test Your Attacking Chess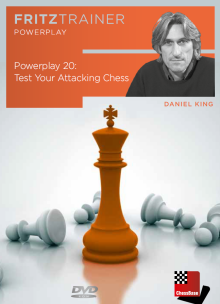 Languages:

English

,

German

ISBN:
978-3-86681-402-8
EAN:
4027975007816
Delivery:
Download, Post
Level:

Advanced

,

Tournament player

,

Professional
€29.90
€25.13 without VAT (for Customers outside the EU)
$30.91 (without VAT)
Every chessplayer should have the ability to play a direct attack against the enemy king. Positional chess is important but one has to be able to recognise when to launch an attack. Checkmate ends the game. This DVD has two aims: · To test your attacking ability · To provide you with an arsenal of potent attacking ideas Using the new Fritz Trainer interactive system, Grandmaster Daniel King presents ten exemplary attacking performances. At key moments he stops and asks you to play a move. King then gives feedback on the most plausible continuations using video clips. It's the next best thing to having your own personal trainer!
• Video running time: 4 hours 40 min (English)
• Interactive training including video feedback
• Exclusive database with 50 Attack test games
• Including CB 12 – Reader
System requirements
Minimum: Dual Core, 2 GB RAM, Windows 7 or 8.1, DirectX11, graphics card with 256 MB RAM, DVD-ROM drive, Windows Media Player 9, ChessBase 14/Fritz 16 or included Reader and internet access for program activation. Recommended: PC Intel i5 (Quadcore), 4 GB RAM, Windows 10, DirectX11, graphics card with 512 MB RAM or more, 100% DirectX10-compatible sound card, Windows Media Player 11, DVD-ROM drive and internet access for program activation.
Sample video