Power Play 14 - Test Your Tactics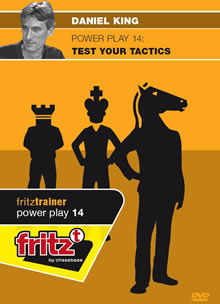 Languages:

English

EAN:
9783866811973
Delivery:
Download, Post
Level:

Advanced

,

Tournament player
€29.99
€25.20 without VAT (for Customers outside the EU)
$31.03 (without VAT)
When we are discussing tactics, the concept of pattern recognition is very important. Almost every chess game is different, but there are familiar tactical themes that recur over and over. Being able to spot these motifs rapidly is essential to chess mastery. This DVD is a good starting point! The Power Play series is suitable for anyone looking to improve their chess, but also provides ready-made lessons and exercises for a trainer. Video runningtime: 6 hours.
On this DVD Grandmaster Daniel King:
demonstrates typical tactical patterns
shows how strong players use their tactical awareness
puts your tactical abilities to the test
But this is a test with a difference. Although the emphasis is on tactics, there are also positions that require a strategic solution. You don't know what's coming next...
System requirements
Minimum: Dual Core, 2 GB RAM, Windows 7 or 8.1, DirectX11, graphics card with 256 MB RAM, DVD-ROM drive, Windows Media Player 9, ChessBase 14/Fritz 16 or included Reader and internet access for program activation. Recommended: PC Intel i5 (Quadcore), 4 GB RAM, Windows 10, DirectX11, graphics card with 512 MB RAM or more, 100% DirectX10-compatible sound card, Windows Media Player 11, DVD-ROM drive and internet access for program activation.
Sample video