Scandinavian with 3…Qd6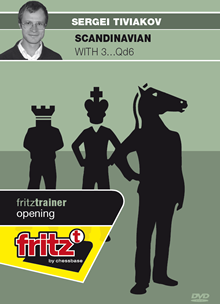 Languages:

English

EAN:
4027975006826
Delivery:
Download, Post
Level:

Tournament player

,

Professional
€29.90
€25.13 without VAT (for Customers outside the EU)
$30.94 (without VAT)
The Scandinavian with 3...Qd6 could just as well be called "The Tiviakov System". The grandmaster who was born in Russia and who now has an ELO-rating of 2623 has been working with this plan for many years and has successfully employed it against 1.e4-players of all calibres, both against weaker title-holders and also against World Champion Vishy Anand. On his new DVD Sergei Tiviakov shows you everything you need to know in order to be able to play 3...Qd6 yourself at once. Because he not only presents you with all the important variations and plans for Black but at the same time he does not omit a single one of White's possible side variations on move 3. And the DVD comes with a special sweetener, namely a collection of all the author's games with the Scandinavian, including many which had absolutely not been published until now. Video running time: 4 hrs. 16 min.
System requirements
Minimum: Dual Core, 2 GB RAM, Windows 7 or 8.1, DirectX11, graphics card with 256 MB RAM, DVD-ROM drive, Windows Media Player 9, ChessBase 14/Fritz 16 or included Reader and internet access for program activation. Recommended: PC Intel i5 (Quadcore), 4 GB RAM, Windows 10, DirectX11, graphics card with 512 MB RAM or more, 100% DirectX10-compatible sound card, Windows Media Player 11, DVD-ROM drive and internet access for program activation.
Sample video
Reviews
This is one of those rare trainers that actually gives insight into the grandmaster's lab, and how he formulates ideas in the opening. If you are a patient counter-puncher who likes activity as black, in an opening your opponents probably won't know very well, you need to consider this DVD and opening. It is too good to pass up. My assessment of this product: Excellent (six out of six stars).