What Grandmasters Don't See Vol. 3: Summary and Test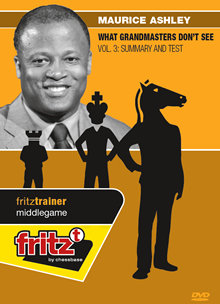 Languages:

English

EAN:
4027975006437
Delivery:
Download, Post
Level:

Beginner

,

Advanced

,

Tournament player
€29.90
€25.13 without VAT (for Customers outside the EU)
$30.91 (without VAT)
Many times, when a top player blunders, it is routinely described by the esoteric term "chess blindness". In this series What Grandmasters Don't See, chess trainer and worldclass commentator Maurice Ashley strips away the myth and for the first time explains why the root of these mistakes is more often based in the psychology of human learning. In this DVD, the third volume of the three part series, Ashley completes his idea of Protected Squares from Volume 1, showing that squares seemingly guarded by pieces are often the breeding ground of amazing tactical oversights. He also blends the themes from all three volumes to give a thorough picture of the key ways that the viewer can exploit the typical mistakes by players of all levels. In the first half of the DVD, Ashley uses brilliant games and positions to explain each lesson in his dynamic commentary style. The second half of the DVD is filled with examples to test the viewer, with a series of exercises of increasing difficulty. The material is drawn both from classic and from recent games. Video running time: 3 hours 45 min.
System requirements
Minimum: Dual Core, 2 GB RAM, Windows 7 or 8.1, DirectX11, graphics card with 256 MB RAM, DVD-ROM drive, Windows Media Player 9, ChessBase 14/Fritz 16 or included Reader and internet access for program activation. Recommended: PC Intel i5 (Quadcore), 4 GB RAM, Windows 10, DirectX11, graphics card with 512 MB RAM or more, 100% DirectX10-compatible sound card, Windows Media Player 11, DVD-ROM drive and internet access for program activation.
Sample video
Reviews
No matter what your level, this is a fun product where you will also learn something. And since these really are things grandmasters don't see, even higher-level players will benefit from the information as well as the excellent lecturing style of the presenter. If I could ever afford lessons from a grandmaster, I would pick GM Ashley, no question. Luckily, I can have him as a teacher for about thirty bucks with this DVD; let's hope he makes more. My assessment of this DVD: Great (five out of six stars).