ChessBase Tutorials Openings # 04: Indian Openings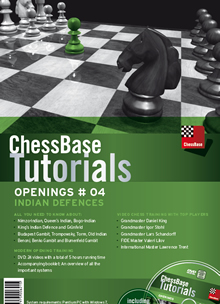 Languages:

German

,

English

EAN:
9783866811850
Delivery:
Download, Post
Level:

Beginner

,

Advanced
€29.90
€25.13 without VAT (for Customers outside the EU)
$30.94 (without VAT)
Every game starts with the opening – and sometimes it also ends there! But that need not happen. With ChessBase Tutorials you do not need to spend a lot of time to rapidly master things. "Openings # 04: Indian Openings" (1.d4 Nf6) is the fourth in a series of five volumes dealing with the fundamentals of opening play in chess. In it, experienced tournament players and experts in each specific opening will teach you what you absolutely have to know about the King's Indian, Nimzo Indian, Queen's Indian, and Bogo Indian. Moreover, the Benko Gambit, Budapest Gambit, Benoni and Modern Benoni, and even 1d4 d6 2.c4 e5 is covered. Which basic plans does each side follow? How are these put into operation and for which traps do you need to be on the lookout? In 24 video lectures with a total running time of over 5 hours, grandmasters Daniel King, Igor Stohl, Lars Schandorff and others will acquaint you with the basics of the various systems and give you valuable recommendations as to what to play.
System requirements
Minimum: Dual Core, 2 GB RAM, Windows 7 or 8.1, DirectX11, graphics card with 256 MB RAM, DVD-ROM drive, Windows Media Player 9, ChessBase 14/Fritz 16 or included Reader and internet access for program activation. Recommended: PC Intel i5 (Quadcore), 4 GB RAM, Windows 10, DirectX11, graphics card with 512 MB RAM or more, 100% DirectX10-compatible sound card, Windows Media Player 11, DVD-ROM drive and internet access for program activation.
Sample video
Reviews
Any player with tournament experience will find these to be a useful introduction, perhaps barring those rated more than 2200. I normally play, for example, classically, and thus, the Tarrasch defense has been my defense of choice. But there are times when the defense just doesn't work for me, and it is always useful to have a back-up. In these cases, I play Nimzo/Queen's Indian/Bogo-Indian defenses, so I know something about them. Still, I found Stohl's material very useful in telling me a little more about an opening I rarely play, but know at least a little about. And of course, I already mentioned Lilov's little piece of theory I am dying to try out in my online games. For someone brand new, it would be a good introduction, for those who know a bit about openings, a useful review. This tutorial system is a great idea. My assessment of this product: Great (five out of six stars).