The Nimzowitsch-Larsen Attack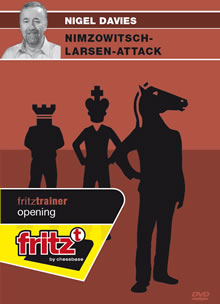 Languages:

English

EAN:
4027975007045
Delivery:
Download, Post
Level:

Advanced

,

Tournament player
€27.90
€23.45 without VAT (for Customers outside the EU)
$28.84 (without VAT)
The Nimzowitsch-Larsen Attack with 1.b3 (or 1.Nf3 followed by 2.b3) is an opening system that has been rather neglected by the theoreticians but can prove deadly in the hands of the skilled tournament player. Leading exponents of this move have included both brilliant attacking players such as Ljubomir Ljubojevic, Albin Planinc and Artashes Minasian and positional players such as Tigran Petrosian, Mark Taimanov and Vladimir Bagirov. Even Bobby Fischer tried it in several games instead of his favourite 1.e4. And the greatest exponent of this system was the legendary Danish Grandmaster, Bent Larsen.White's set up emphasises flexibility, often adapting his position to what Black does in reply. This can prove quite lethal to opponents who like to play a single predictable set up as Black and even strong players can go badly astray when confronted by the unusual problems it poses. On this DVD Davies arms the viewer with insights into how to handle things and demonstrates how he thinks White should meet Black's main defences. Using examples taken from the practice of leading exponents of this opening he explains the strategies clearly and concisely. Video running time: 4 hours 40 minutes.
System requirements
Minimum: Dual Core, 2 GB RAM, Windows 7 or 8.1, DirectX11, graphics card with 256 MB RAM, DVD-ROM drive, Windows Media Player 9, ChessBase 14/Fritz 16 or included Reader and internet access for program activation. Recommended: PC Intel i5 (Quadcore), 4 GB RAM, Windows 10, DirectX11, graphics card with 512 MB RAM or more, 100% DirectX10-compatible sound card, Windows Media Player 11, DVD-ROM drive and internet access for program activation.
Sample video
Reviews
Davies shows the pluses and minuses for both sides here. For any player who has reached the level where they have a basic positional understanding, and wants to try an opening where plans and ideas trump memorized lines, this is a phenomenal trainer.