First Steps in Chess Technique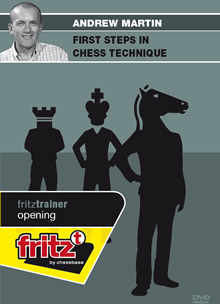 Languages:

English

EAN:
4027975007090
Delivery:
Download, Post
Level:

Beginner

,

Advanced
€19.90
€16.72 without VAT (for Customers outside the EU)
$20.59 (without VAT)
The acquisition of excellent technique seems elusive to the average player, but on this new ChessBase DVD, FIDE Senior Trainer Andrew Martin shows how to take first steps in the right direction. Hard work, the study of master games and plenty of over the board practice will form the basis of a routine and if you are thinking correctly at the board, the battle is half won. The other half is actually all down to playing good moves and winning more games! This DVD will help you to think in the right way and thus improve your technique. Through targeted guidance and inspiration, a student may get stronger - quicker than they ever could have imagined. This is what the 'First Steps' series is all about. Video running time: 3 hrs 35 min.
System requirements
Minimum: Dual Core, 2 GB RAM, Windows 7 or 8.1, DirectX11, graphics card with 256 MB RAM, DVD-ROM drive, Windows Media Player 9, ChessBase 14/Fritz 16 or included Reader and internet access for program activation. Recommended: PC Intel i5 (Quadcore), 4 GB RAM, Windows 10, DirectX11, graphics card with 512 MB RAM or more, 100% DirectX10-compatible sound card, Windows Media Player 11, DVD-ROM drive and internet access for program activation.
Sample video
Reviews
A fine feature of this DVD are the annotated games. In his annotations Martin confirms what he speaks about in the videos and allows you to take another, serious look at the games to understand the concepts Martin puts forward better. Club players will benefit a lot from this DVD. With a running time of approximately three and a half hours, 'First steps in chess technique' gives full value for the money invested and is recommended for its originality and instructional value.