First Steps in Positional Play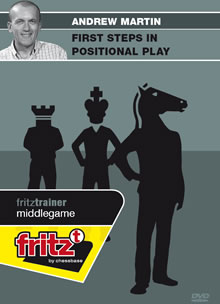 Languages:

English

EAN:
4027975006963
Delivery:
Download, Post
Level:

Beginner

,

Advanced
€19.90
€16.72 without VAT (for Customers outside the EU)
$20.59 (without VAT)
A strong command of middlegame skills often makes the difference between winning and losing a game of chess. The art of positional play must be included in any list of those skills. 'First Steps in Positional Play' attempts to equip the viewer with all the information he or she needs to begin to tackle this aspect of chess. Players below 1500 will benefit from this basic advice. Players above 1500 will enjoy the detailed examination of many current master games. This is an enjoyable tour of positional play from which everyone can learn. Video running time: 3 hours 20 min.
System requirements
Minimum: Dual Core, 2 GB RAM, Windows 7 or 8.1, DirectX11, graphics card with 256 MB RAM, DVD-ROM drive, Windows Media Player 9, ChessBase 14/Fritz 16 or included Reader and internet access for program activation. Recommended: PC Intel i5 (Quadcore), 4 GB RAM, Windows 10, DirectX11, graphics card with 512 MB RAM or more, 100% DirectX10-compatible sound card, Windows Media Player 11, DVD-ROM drive and internet access for program activation.
Reviews
IM Andrew Martin is a well-organised presenter. He is clearly in command of his material, appears practiced, addresses the audience direct to the camera, and explains lucidly at an appropriate learner level. Rather than just talking chess, chugging dourly click-click-click through ChessBase on screen, I found Martin to be engaging, good-humoured and easy viewing. While a more considered choice of games may have been more helpful, Martin's explanations of the games within this DVD will be helpful to players around 1500 level seeking to learn about positional play.