Power Play 16 - Test Your Rook Endgames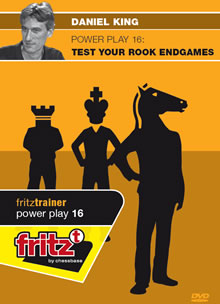 Languages:

English

,

German

Delivery:
Download, Post
Level:

Advanced

,

Tournament player
€29.90
€25.13 without VAT (for Customers outside the EU)
$31.01 (without VAT)
The aim of this DVD is to provide you with the practical skills and knowledge that you will need to play a rook and pawn endgame. Based on his own playing experience, Grandmaster Daniel King reveals what is essential knowledge, saving you time in your studies. The first section of the DVD compromises some basics – common positions you simply must understand if you enter a rook and pawn endgame, such as rook and pawn against rook. In the second section common scenarios are discussed, for example, endgames with all pawns on one wing, and endgames where one side has an extra pawn on one side of the board. In the third section you can gauge your knowledge by studying some specially prepared test positions. The Power Play series is suitable for anyone looking to improve their chess, but also provides ready-made lessons and exercises for a trainer. Video runningtime: 5 hours.
'The PowerPlay DVD series by GM Daniel King is one of the most successful chess instruction tools today.' – New In Chess (Shop)
System requirements
Minimum: Dual Core, 2 GB RAM, Windows 7 or 8.1, DirectX11, graphics card with 256 MB RAM, DVD-ROM drive, Windows Media Player 9, ChessBase 14/Fritz 16 or included Reader and internet access for program activation. Recommended: PC Intel i5 (Quadcore), 4 GB RAM, Windows 10, DirectX11, graphics card with 512 MB RAM or more, 100% DirectX10-compatible sound card, Windows Media Player 11, DVD-ROM drive and internet access for program activation.
Sample video
Reviews
This is a good first primer for rook endgames. If you are at that point where you lose or draw too many rook endgames simply because you have not studied them in any depth, this is a great product for that purpose, and the opportunity to test yourself is a great plus. After that, you can graduate to Emms or Müller, and know rook endgames as well as the grandmasters.