The Queen's Gambit Declined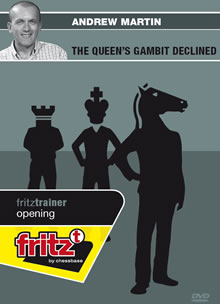 Languages:

English

ISBN:
978-3-86681-231-4
EAN:
9783866812314
Delivery:
Download, Post
Level:

Advanced

,

Tournament player
€29.90
€25.13 without VAT (for Customers outside the EU)
$30.85 (without VAT)
The Queens Gambit Declined, Orthodox Variation is an opening choice for Black which will never be refuted. It perhaps has an unjust reputation of being solid and passive, but this all-new ChessBase DVD will challenge that perception. Basing his Black repertoire on the Cambridge Springs variation, Andrew Martin takes you on a tour of classic games, showing how Black may conveniently sidestep the dangerous lines with Bf4, whilst retaining good chances and providing comprehensive coverage of the lines where White captures early on d5. This is a repertoire which will suit all levels of player. Video running time: 4 hours 23 min.
System requirements
Minimum: Dual Core, 2 GB RAM, Windows 7 or 8.1, DirectX11, graphics card with 256 MB RAM, DVD-ROM drive, Windows Media Player 9, ChessBase 14/Fritz 16 or included Reader and internet access for program activation. Recommended: PC Intel i5 (Quadcore), 4 GB RAM, Windows 10, DirectX11, graphics card with 512 MB RAM or more, 100% DirectX10-compatible sound card, Windows Media Player 11, DVD-ROM drive and internet access for program activation.
Sample video
Reviews
Other trainers may have greater depth of material, but this one is "just right" for the club player looking for a solid defense to the Queen's Gambit that offers chances of coming out on top. It is good enough to be used as an opening reference as well. It is incredible that Martin doesn't waste a single second here in presenting the material. Highly recommended for those rated below 2200, with a target audience of 1400-1800. The one caveat is that you have to be willing to accept a middlegame that might taper off into a draw, but if you are careful, patient, and know the main ideas, you have good chances to win. My assessment of this product: Excellent (six out of six stars).