The whole universe of the Queen's Gambit Declined in a single variation tree: à la Lasker, Capablanca, Tartakower, Ragosin, as the Exchange Variation or in the form of the Cambridge Springs Defence. The Queen's Gambit Declined Powerbook 2016 contains the knowledge drawn from over 90 000 high class master games as well as 310 000 engine games from the platchess.com server (with both ECO codes D30-D42 and D50-D69).

Nowadays the Tartakower-Makogonov-Bondarevsky Variation (shorthand: TMB) has become the most important main line: 1.d4 d5 2.c4 e6 3.Nf3 Nf6 4.Nc3 Be7 5.Bg5 0-0 6.e3 h6 7.Bh4 b6.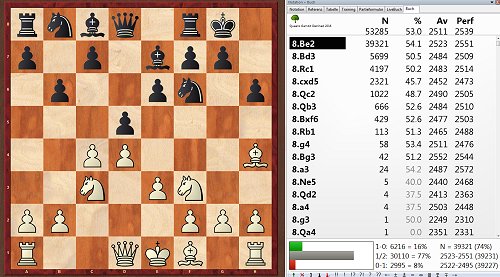 But how do we continue? In the Mega database you can base your decision on roughly 10 000 games, of which only approximately 1,700 saw 8.Be2. Yet that is precisely what seems to be the trend in the TMB: our Powerbook points to almost 40 000 games with the bishop move.
System requirements
Pentium PC, 32 MB RAM, Windows 10, 8,7 or XP and Fritz 12, Fritz 13 or Deep Fritz14, Fritz 15