ChessBase Magazine 177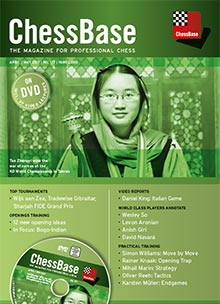 Idiomas:

Alemán

,

Inglés

Entrega:
Descarga, Por correo
Nivel:
Cualquiera
19,95 €
16,76 € Sin IVA/VAT (para clientes fuera de la Unión Europea)
20,64 $ (sin IVA/VAT)
La redacción recomienda y destaca los siguientes contenidos:
1. ¡Por fin Wijk aan Zee! Wesley So muestra su partida contra Wojtaszek y explica por qué el triunfo en el clásico holandés ha sido tan importante para él.
2. Una idea retorcida: Levon Aronian explica cómo le salió tan bien la partida contra Giri, con una Catalana con 8.Ca3.
3. Ataque Francés: láncese con Simon Williams jugada a jugada, lo mismo que Ju Wenjun cuando venció a Hou Yifan.
4. La seducción española: Rainer Knaak nos enseña cómo podemos atraer a nuestro adversario con 6...d7-d6 para que caiga en la trampa con 7.Cg5.
5. Torres furiosas: no se pierda los fuegos artificiales tácticos que dispara Oliver Reeh (con vídeo interactivo).
6. Pros y contras de la Bogoindia: el GM Postny presenta las últimas tendencias y repasa la evolución de los últimos años.
7. La Escandinavia Portuguesa: Petra Papp nos enseña cómo afrontar el gambito de 1.e4 d5 2.exd5 Cf6 3.d4 Ag4 de la mejor manera.
8. Un camino totalmente loco hacia la victoria: Anish Giri explica cómo puso en apuros a Andreikin en una Escocesa y qué movimiento genial sugerido por los módulos de ajedrez pasó por alto.
9. Fracasar de manera fantástica: disfruten de la partida estrella de Richard Rapport contra Wesley So, con el análisis en vídeo de Daniel King.
10. Sorpresa en la India de Dama: el jugador de la elite suiza Yannick Pelletier descifra el movimiento 9.Ae1 de Levon Aronian. (Con vídeo)
Recomendaciones para su repertorio
Lampert: English A32 (Recommendation for White)
1.d4 Nf6 2.c4 c5 3.Nf3 cxd4 4.Nxd4 e6 5.g3 Qc7
| | | |
| --- | --- | --- |
| | | In this variation, classified under the English Opening, but more likely having arisen from a Declined Benoni, White usually sacrifices his c4-pawn. As Jonas Lampert demonstrates in his article, in return he obtains compensation or even something more. |
Krasenkow: English A34 (Recommendation for Black)
1.c4 c5 2.Nf3 Nf6 3.Nc3 d5 4.cxd5 Nxd5
| | | |
| --- | --- | --- |
| | | As Michal Krasenkow explains, every fan of the Grünfeld has to be prepared for White choosing a different starting move order and delaying d2-d4 so as not to allow an original Grünfeld. One of these variations is the subject of the present article by our Grünfeld expert. |
Moskalenko: Dutch Defence A80 (Recommendation for Black)
1.d4 f5 2.Nc3 d5 3.Bg5 Nf6 4.Bxf6 exf6 5.e3 Be6
| | | |
| --- | --- | --- |
| | | Many completely avoid the position in the diagram (see Part 2 in CBM 172). But nowadays the variation is dealt with slightly differently: above all c7-c6 is absolutely avoided. Viktor Moskalenko evaluates the ensuing positions as slightly static but very playable for Black. |
Papp: Scandinavian Defence B01 (Recommendation for White)
1.e4 d5 2.exd5 Nf6 3.d4 Bg4
Petra Papp has against the Portuguese Variation 3...

B

g4 a clear plan which gives White an advantage in all lines. The very starting move 4.

B

b5+ is in her opinion somewhat more accurate than the popular 4.f3.
Breutigam: Pirc Defence B08 (Recommendation for Black)
1.e4 d6 2.d4 Nf6 3.Nc3 g6 4.Nf3 Bg7 5.Be2 0-0 6.0-0 a6
The move 6...a6 in the Pirc Defence has been known for a long time, but now this interesting variation has been enriched by remarkable facet: the idea, after

N

b8-c6 followed by d4-d5, of retreating with the knight to a7. Martin Breutigam is enthusiastic about it.
Petrov: Sicilian Defence B23 (Recommendation for White)
1.e4 c5 2.Nc3 Nc6 3.Bb5 Nd4 4.Nf3
As Marian Petrov explains in his article, the whole variation is above all based on the fact that by playing the "natural" 4...

N

xb5 Black brings difficulties down on his own head, because White takes advantage of his lead on development for a rapid d2-d4.
Szabo: Sicilian Defence B53 (Recommendation for Black)
1.e4 c5 2.Nf3 d6 3.d4 cxd4 4.Qxd4 Nc6 5.Bb5 Bd7
The Hungarian Variation 4.

Q

xd4 is employed above all to avoid the Najdorf System. Krisztian Szabo presents a plan for Black with which he obtains at least a level game against both 6.

B

xc6 and the recently popular 6.

Q

d3.
Ris: French Defence C11 (Recommendation for White)
1.e4 e6 2.d4 d5 3.Nc3 Nf6 4.e5 Nfd7 5.f4 c5 6.Nf3 Nc6 7.Be3 a6 8.Qd2 b5 9.dxc5 Bxc5 10.Bd3
As Robert Ris explains, the main idea behind Karjakin's 10.

B

d3

Q

b6 11.

B

f2! is above all that Black will have a few difficulties in the possible endgames. There may be quite good alternatives, but they too are not very easy to play.
Kuzmin: Queen's Gambit D37 (Recommendation for Black)
1.d4 d5 2.c4 e6 3.Nf3 Nf6 4.Nc3 a6
Facing the unusual 4...a6 White mainly transposes with 5.cxd5 exd5 6.

B

g5 to an Exchange Variation. As Alexey Kuzmin shows in his article on the DVD, Black develops with 6...

B

e6 and obtains very playable positions, though perhaps not complete equality.
Marin: Slav/Grünfeld D90 (Recommendation for Black)
1.d4 d5 2.c4 c6 3.Nf3 Nf6 4.Nc3 g6
| | | |
| --- | --- | --- |
| | | Thje relationship to the Schlechter Defence cannot be missed, but White has not yet played e3 and has some additional possibilities. But as Mihail Marin demonstrates, there is no need for Black to fear these, though knowledge of the Grünfeld is required. |
Stohl: Catalan E06 (Recommendation for both sides)
1.d4 Nf6 2.c4 e6 3.g3 d5 4.Bg2 Be7 5.Nf3 0-0 6.Qc2
The immediate 6.

Q

c2 (instead of 6.0-0 dxc4 7.

Q

c2) is in no way a new idea, but some recent games (especially So-Wojtaszek, Wijk aan Zee 2017) have once again attracted attention to the whole variation. Igor Stohl sums up the latest state of affairs in his article on the DVD.
Requisitos del sistema
Mínimos: Dual Core, 2 GB RAM, Windows 7 o 8.1, DirectX11, tarjeta gráfica con 256 MB RAM, unidad lectora de DVD-ROM, Windows Media Player 9 y acceso a Internet para la activación del producto. Recomendados: PC Intel i5 (Quadcore), 4 GB RAM, Windows 10, DirectX10, tarjeta gráfica con 512 MB RAM o más, tarjeta de sonido al 100% compatible con DirectX11, Windows Media Player 11, unidad lectora de DVD-ROM y acceso a Internet para la activación del producto.
Muestra de vídeo